View Trailer
When you subscribe to I Feel Myself, I Shot Myself and/or Beautiful Agony via this site, you help to support One Life, Take Two.
When I decided that
One Life, Take Two
would no longer be strictly "safe for work"—oh, did I fail to mention that
One Life, Take Two
will no longer be strictly "safe for work?"—I polled my friends to ask what porn sites they most enjoyed. I figured that you might get a kick from the dirty pictures that most get us going; that way, when you get off elsewhere, you're still getting off with us.
You know you're never alone when you cum with us.
Imagine my surprise when Jake revealed that at the top of his favorites was a site of such beauty as
I Feel Myself
. Jake—he of the foot-long dick and spine-breaking jackhammer fuck—goes for videos of women masturbating. And these aren't your run-of-the-mill finger-flicking features.
I Feel Myself
focuses on "real" women (as opposed to professional models or actresses) pleasuring themselves in artfully filmed scenes, with subtle lighting and lingering edits.
Behind the scenes are female filmmakers and editors who, now and then, take a turn in front of the camera to interview their subjects or to indulge in a little finger fucking of their own.
Listen closely if you like orgasms with an Australian accent, as these scenes of the joys down there come from the land down under.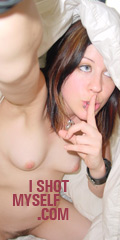 The same folks are behind
Beautiful Agony
, which also includes male wankers, and
I Shot Myself
, which puts a camera in the free hand of those enthusiastic clit diddlers.
Take a look and tell 'em Jefferson sent you.
You might want to put fresh double A's in the vibrator before you do.
sex
sexblog
bisexual
erotica