Bianca is
A Curious Girl
.
One day, her curiosity got the better of her. When she just couldn't stand it anymore, Bianca got in her car and drove. She headed south, crossed the border, and drove some more.
Fourteen hours later, she arrived at my door.
I gave her chicken salad and a massage. In between, my friends and I gave her a full night of our best sex.
She napped and then was off the next morning, her car logging more miles as her mind sorted out the memories of her first orgy.
Visit her blog to read about the
detour
that got her naked with
yours truly
.
But don't go before you enjoy the self-portraits of this twenty-one-year-old raven-haired zaftig cutie who sits on an open invitation back to Gotham.
She asked me to wish y'all a bonne année, with a special nod to the foot fetishists out there.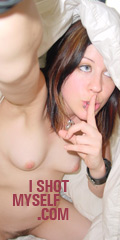 sex
sex blog
bisexual
erotica
nude